Adobe Releases Lightroom 4 Beta!

On the 6th anniversary of the first Adobe Photoshop Lightroom beta, Adobe has released a beta of Lightroom 4! It is immediately available for download from Adobe Labs and is free to use for both new and existing users.
Overview
This latest version adds a number of significant features to the product:

A Map module for managing location information
A Book module for creating photo books
Advances in image processing via a new Process Version (PV 2012) and controls
Soft Proofing for a better colour management workflow
Emailing images directly from within Lightroom
Enhanced Video capabilities and format support
Enhanced DNG capabilities and workflows
New Adobe Revel (formerly Adobe Carousel – see here for details) export workflow
More details about these and other features later.
With the latest beta the minimum system requirements have been changed with support being dropped for some older operating systems. The new minimum requirements are:
Mac:
Multicore Intel® processor with 64-bit support
Mac OS X v10.6.8 (Snow Leopard) or v10.7 (Lion)
2GB of RAM
1GB of available hard-disk space
1024×768 display
Windows:
Intel® Pentium® 4 or AMD Athlon® 64 processor
Microsoft® Windows Vista® with Service Pack 2 or Windows 7 with Service Pack 1
2GB of RAM
1GB of available hard-disk space
1024×768 display
If your system is up to specification why not start the download while we dive deeper into what is included in the beta?
My Five Favourite Features
Rather than provide an exhaustive overview of the beta I'll be talking though some of my favourite features instead. At the end of the post I've include links to other Lightroom 4 beta resources that will help fill in the gaps for those interested in the features not covered here.
Enhanced Video Capabilities and Format Support
While Lightroom 3 already includes some support for video files this beta has significantly expanded those:
Lightroom is now able to directly playback video within the Library module
Videos can be trimmed using the new controls visible within the Library module's Loupe view
Most Quick Develop tools can be used for processing a video, including the application of presets. See screen shot below for further details.
Publish and Export services now fully support video and can optionally convert to H.264 or DPX formats during export.


 

 

 

 

Most popular DSLR, compact camera and smart phone video formats can now being imported, including 3GP and AVCHD.
The video frame ("Poster Frame") used for the Library module's thumbnail can be chosen by the user. 
Individual frames can be extracted from a video as standalone images.
A new Video Metadata Tagset has been added to the Library module's Metadata panel, containing a variety of new video specific metadata fields. For the metadata geeks these fields appear to be a subset of those defined by the XMP Dynamic Media namespace.
These additions make Lightroom a much more useful part of a photographer's video workflow. It is now capable of importing, playing, trimming, processing and publishing videos so could become the main video digital asset management tool for many photographers.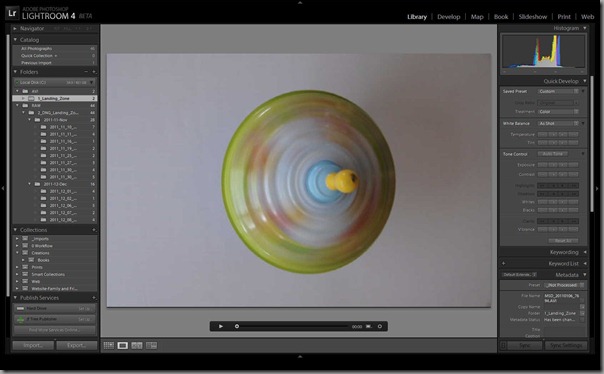 Lightroom's video editing capabilities are no match for a full Non Linear Editor (NLE) but even larger projects requiring more full featured video editing tools could benefit from Lightroom's video management and publishing capabilities. Smaller video processing tasks (e.g. cleaning up and publishing a video from your smartphone) can be quickly completed in Lightroom's Library module.
TIP: When attempting multiple edits to a video at once it can be useful to capture a "Poster Frame", use the Develop module to adjust the captured frame to the desired look, create a preset from the edits then use the Library module's Quick Develop to apply the preset to the whole video.
Map Module
The beta adds a new Map module for working with location information in a visual and engaging way:
View recorded locations for images directly within Lightroom, using satellite, street, or terrain maps
Add location information to photos by dragging and dropping them only the map
Save favourite map locations for use when searching for or tagging image locations (see screen shot below).
Manage publication of location information selectively, through checking the private flag on a saved location, or broadly by checking the Remove Location Info option in your Publish or Export service.
Load GPX tracklogs and use them to tag images with matching date/time stamps (see screen shot below).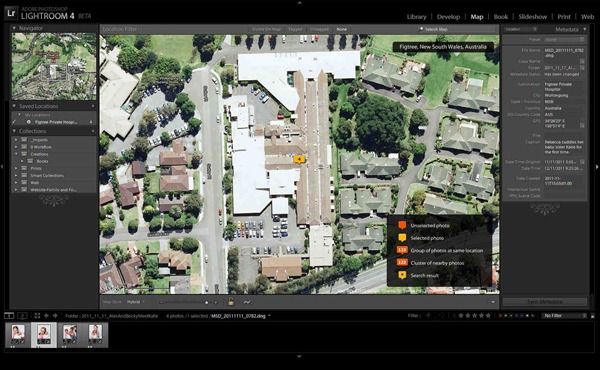 The Lightroom Map module is fun to play with, but strangely enough it is the location information privacy features that are making GPS location capture a more regular part of my photography. I try not to attach location information to photos taken at the homes of my friends and family for privacy reasons but I frequently forget to turn tracklogs on or off and it made this a fairly frustrating experience. Now I can save these locations in Lightroom, and enable the privacy setting to hide their location information, and always capture location information safe in the knowledge this will never be published outside of my personal catalog.
Advances in Image Processing (Process Version 2012)
Lightroom 3 introduced some major improvements to the product's image processing capabilities (officially known as "Process Version 2010"), and Lightroom 4 has taken this even further with the new Process Version 2012 and associated controls:
Controls in the Basic Panel have been simplified (no more Fill Light or Brightness adjustments) (see screen shot below)
Content aware Shadow and Highlight controls extract greater dynamic range from a single image
Improvements to the operation of the Clarity and Chromatic Aberration controls
Additional settings can be applied as Local Adjustments, including Noise Reduction, Temperature and Tint (White Balance), Shadows, Highlights and Moire (see screen shot below)
Curve adjustments can now be applied per channel
Soft proofing is now available in the Develop module (a separate headline feature)
The new controls may require some time to get used to but the results that can be achieved make this well worth the effort!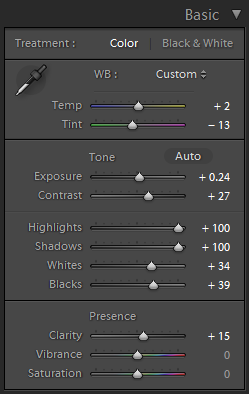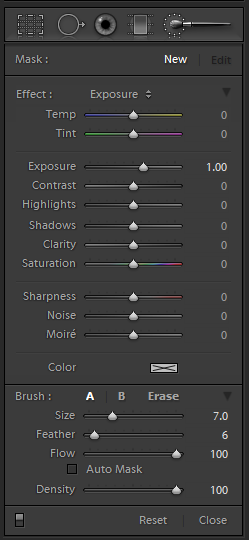 Book Module
Lightroom 4 adds the oft requested photo book creation feature via its new Book module:
New Book module helps users create Blurb and PDF photo books directly within Lightroom
Auto layout feature quickly creates initial book layouts using your preferred presets
Easily adjust page and photo locations via drag and drop
~180 page layouts have been built-in for use in your creations
A Favourites feature is available for easy access to your preferred page layouts
Advanced layout, formatting and type features are included to give you the flexibility to customise your photo book's appearance
Easily add photo metadata (e.g. captions) to your pages
Tight integration is provided to the Blurb book printing service allowing you to prepare, cost and upload your book directly within Lightroom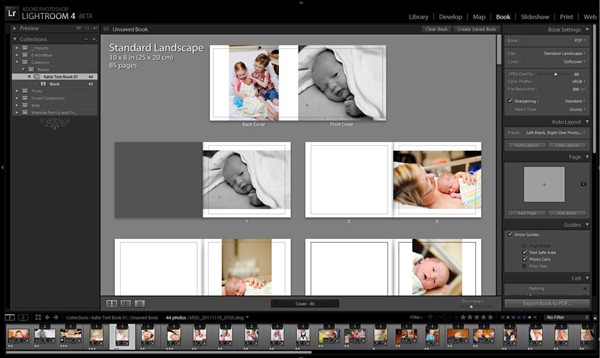 Initially the Book module will provide deep integration with the Blurb book printing service only, but I suspect this will expand over time just as Lightroom 3's tethering feature started with a restricted set of camera makes and models and slowly expanded from there.
Personally I'm looking forward to spending more time with PDF photo book creation, to produce electronic photo books to share online with family and friends or view on my tablet.
JDI ("Just Do It") UI Refinements
In addition to all of the major features added by the beta, there are a number of small refinements that help make the product more usable and deserve calling out. Some that I personally appreciate:
Develop preset lists displayed by the Import dialog and Quick Develop panel are now hierarchical, making large sets of Develop presets (e.g. collections bought from third parties) much more usable.
Metadata Status can now be used in Smart Collections and the Library module's Filter bar. Very handy for those who don't use the "Automatically save to XMP" preference but still want their Develop settings saved to their images once they have finished with a set of images.
Additional options for restricting metadata Published or Exported with your images (e.g. "All except Camera & Camera Raw Info"). 
Lightroom Beta Learning Resources
To help get you started with the Lightroom 4 beta Adobe has provided a number of resources:
Lightroom regulars have also been preparing learning resources so if you are looking for additional information I'd recommend checking out the following:
I'm sure lots more great content will be coming from these Lightroom legends over the coming weeks!
Hopefully this post has piqued your interest and you will try out the Lightroom 4 public beta. Have fun experimenting with the latest and greatest imaging tool from Adobe, and please let us know either in the comments or official forums about your personal experiences with the beta!