Review: Craft & Vision's Free eBook
As a self proclaimed photo geek you are pretty much assured that anything published on this site will be photo related, and likely technical (aka geeky). I usually err towards the technical side of that equation – gadgets, Lightroom plugins, photo processing techniques – but in a bid to even up the score I'm starting to review eBooks, books and videos focussing more on the artistic aspects of photography instead. And what better place to start than with the self-titled eBook from Craft & Vision, the publishing home of David "Gear is good. Vision is better" DuChemin.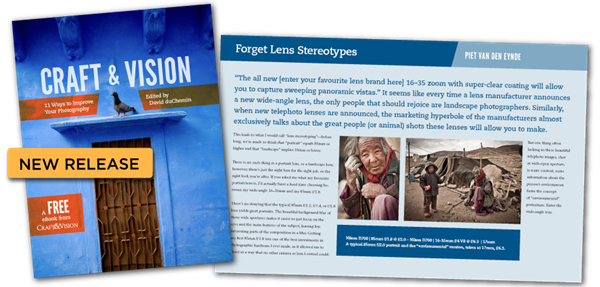 The free Craft & Vision ebook is an anthology of eleven articles written by authors publishing eBooks under the Craft & Vision banner. The theme is "things I wish I had learned sooner", with each author contributing an article or two on topics they are passionate about and would have helped them progress quicker if they had been given this same advice earlier. 
In practical terms this means the content is targeted towards beginning to intermediate photographers who still have enough of the journey ahead of them to need this advice. While the eBook is a decent size (69 pages) and each article is complete in its own right, it can't provide in-depth coverage of each topic as their simply isn't the space to do so. What you do get is some sound advice and a great (and did I mention free?) opportunity to get to know the Craft & Vision authors, their passions and their writing styles. So if any topic discussed in the eBook grabs your attention and you want to know more, it is easier to make an informed decision about whether one of the author's other eBooks would suit your learning style.
As with other Craft & Vision titles the eBook is available in PDF format and is designed to be read in landscape orientation. The layout is attractive and well chosen images drive home the points being made. I read my copy on a 10.1 inch Android tablet and found the text and images quite legible on that sized screen.
With an eBook containing eleven separate articles it would be tempting to produce a quite lengthy review of each and every item included in the eBook. Instead I'll try to focus on the highlights then give you a sense of the remaining content.
My personal top three articles from the anthology were "Understanding the Stages" (Alexandre Buisse),  "Create Projects and Collaborate" (Andrew S. Gibson), and "Slow Down and Learn to See" (Stuart Sipahigil). They each tackled topics that help us understand the photographic journey itself, not just skills and techniques we need to pick up along the way.
"Understanding the Stages" was the article that resonated most with me. It describes the stages one goes through as a photographer, what most of us focus on at each stage (gear, technique, etc) and how much we are willing to share and accept advice/criticism at each stage. I've been grappling with these concepts recently when trying to understand my own position along the photographic skills continuum and I found the discussion helped advance my self-awareness. It has encouraged me to take a look at how and why I share my images and I expect to be making some changes soon (and sharing more) as a result.
"Create Projects and Collaborate" provides a different perspective on the same topic, understanding the photographic journey and how to progress along it, with an emphasis on collaboration. My day job (and geek tendencies) mean I'm more comfortable with the "maturity model" approach used by Alexandre, but others might find Andrew's coverage of the topic suits their learning style better. Either way I'd suggest reading both to get a better understanding of that long journey we still have ahead of us, and help remind us that we shouldn't expect to travel it alone!
"Slow Down and Learn to See" discusses conceptual versus perceptual seeing and the skills we need to develop to help us see the photographic opportunities that surround us every day. I sometimes find myself with "photographer's block" – an inability to think of anything worth photographing – and tried one of the suggested exercises while sitting in a waiting room the other day. It was amazing the different perspective it gave me and the possible images I came up with in a fairly mundane setting. Admittedly I will find it difficult to put aside the suggested time to practice learning to see (young children and standing still are not concepts that fit well together) but I will definitely be trying these exercises again.

Most of the remaining articles contain solid advice for beginning to intermediate photographers, either as an introduction to a topic or a refresher regarding techniques we've seen previously but may forget to practice.  Some tackle technical issues ("Tame Your Digital Exposures") but most cover various aspects of composing or strengthening the content of your images. Special mention goes to Piet Van den Eynde for "Forget Lens Stereotypes" which covers breaking the rules by using the "wrong lens" to capture a scene. I must admit I've been finding myself falling into the "must use a portrait lens for a better portrait" trap myself so it was a timely reminder.
Some of the articles were for more advanced practioners, namely Michael Frye's "Learn to Direct the Eye". and Eli Reinholdtsen's "The Power of the Moment".  "Learn to Direct the Eye" was an interesting read about how to direct the viewer's eye within an image. Unfortunately it's difficult to do justice to this topic in such a small space, but Michael obviously knows his subject and when I'm a little further along my photographic journey I will review his work on the topic. "The Power of the Moment" discusses Eli's approach to Street Photography. I have immense respect for those practising Street Photography as I don't feel confident enough in myself and my craft to take this on yet. My personal circumstances mean I'm unlikely to be able to slow down and dedicate the time required to do this justice for many years. Hopefully one day.
Out of all the articles there is only one I would classify as a teaser. Martin Bailey's "The Power of the Print" is a short introduction to some of the concepts important when printing. It will be interesting to see his "The Passionate Printer" eBook when it is released early next year but I felt this article was too short to provide any useful advice about printing .
I enjoyed reading the complete eBook and found some timely insights, many useful refreshers and some glimpses of techniques I hope to use when I've made it a little further along my journey as a photographer. And the fact that it is free is just the icing on the cake! I'd recommend that any beginning to intermediate photographers download a copy to read. You are sure to pickup a tip or two and gain a better understanding of the photographic road ahead in the process.