Import Improvements in the Lightroom 3 Beta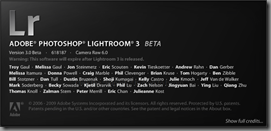 A little over a week ago Tom Hogarty – Product Manager for Adobe Photoshop Lightroom – announced the Lightroom 3 public beta (download here).  Its been more than a year since the last version of Lightroom was released so I was keen to see what improvements had been m2de to my favourite photography program.  So keen in fact that I didn't wait till I got home from my holidays and started using it immediately to import and organise photos taken on the trip!
For those of you new to Lightroom the Import feature is how you load photos into your catalog so the program can find and work with them.  The Import feature has obviously received a lot of attention from the Lightroom team this time around.  There are three major changes that have been made, and a number of usability improvements.  Major changes:
"Import from Disk" and "Import from Device" dialogs have been merged into a single Import dialog
UI has been completely overhauled aesthetically
UI now has Compact and Expanded modes that give you control over all aspects of the import task on a single screen
There have also been a number of usability improvements including:
Import presets have been added to store and access your common import settings
Expanded mode has added Grid and Loupe views for selecting photos to import
Import's backup will now store files using your renamed rather than camera created file names
If you shoot using your camera's RAW + JPEG  mode, both photos are now imported even though the RAW (or DNG) will be the only photo to show in the Library
New "Shoot Name" field available for file renaming templates
Additional folder naming presets
This is a beta so don't expect perfection just yet.  The dialog can get a little sluggish under certain circumstances and I've logged a bug report about one specific case (Copy as DNG when source and destination are on the same drive) that can stall the import entirely.  But all in all I found it was reliable enough for my import workflow and I'm liking the new UI more and more every day. 
One of the great things about this being a beta is it will only get better over time.  I'm personally crossing my finders and hoping these three usability improvements make it into the final release:
Extending folder renaming to use a template-based mechanism similar to to file renaming, including access to the new "Shoot Name" field
Backups to be stored using the same folder structure, not just file names, as the imported files
Allow resizing of the dialog and the side bars within it.
I will get to the other new and improved Lightroom 3 beta features over time but wanted to share my observations after working with one of the first features most users will be encounter.  If there are any other features you are keen to hear about now  Tom has posted links to other beta related articles and resources.  And if you plan to test LR3 yourself then I'd recommend reviewing Victoria Bampton's LR3 Beta – Popular Bugs and Forum Threads post to find out its most frequently noted limitations.
Detailed Look at Import UI
Compact Import dialog
When you first try to Import Lightroom defaults to the Compact dialog and launches over the dimmed main UI. 

Key elements of the Compact dialog:
Source: In addition to displaying the currently selected source, clicking it allows you to change the source and access and manage the Recent Paths list.
Import Type: Select between Copy as DNG, Copy, Move and Add import types.  All types other than Add allow renaming of files and folders during import.  Copy as DNG converts RAW files to Adobe's DNG file format during import, but leaves the image's backup copy (if enabled) in the original file format.
Destination: In addition to displaying the destination folder, clicking it allows you to change the destination and access and manage the Recent Paths list.  The Folder settings provided below will be used to create folders within this location.
Mode: Switch between the "Quick Settings" (default depicted here) and "Summary" modes (displays a summary of all Import settings in the Import Settings area) using these buttons.   The "Summary" mode is depicted in the screenshot below.
Import Settings: Select a Metadata preset and Keywords to be applied to all imported files.  When required by the file naming scheme, "Shoot Name" and other fields also display in this area.
Folder: Choose between "By original folders", "By date" and "Into one folder" folder naming schemes.  "By date" allows you to choose between 13 predefined folder naming templates.  All options also allow a subfolder to be included within this folder naming scheme.
Source Status: Upon selecting a source Lightroom immediately scans the folder (and subfolders, if configured) for images and displays the status of that scan in this area.  The arrow here toggles between the Compact and Expanded dialogs.
Presets: Displays the active Import preset, and allows you to choose or create presets using the arrow to the right.  Presets store most detailed settings that can be configured in the Compact and Expanded dialogs.
Buttons: Initiate or cancel the import.
If you are familiar with Lightroom 2 you will have noticed that the file renaming, Develop Presets and Preview size features are not available via the Compact dialog.  To configure these you must use the Expanded dialog, though once set you can always create a new Import preset that captures these details and can be chosen from the Compact dialog.
Additional screenshots of the Compact dialog's "Quick Setting" and "Summary" modes (respectively) can be found below.
Expanded Import dialog
Clicking the arrow button at the bottom left corner of the Compact dialog opens the Expanded dialog.  The description below refers only to elements that differ from the Compact dialog.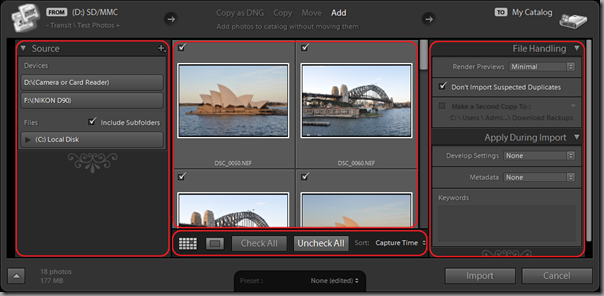 Key elements of the Expanded dialog:
Source panel: In addition to the source section available in the Compact dialog, you also have access to detailed device and folder information via the left hand side of the Expanded dialog.  Devices and Drives are listed separately.  Drives allow you to drill down through the folder hierarchy, while Devices do not give you this option.
Display area: Displays either thumbnails or a single photo depending upon whether Grid or Loupe view has been selected (respectively).  Import status for a photo can be changed using its checkbox, right clicking on it the change the Import Photo state, or using the P (Pick) or U (Unpick) keys to modify the currently selected photo.  At this point in time there is no way to change the import status for multiple (but not all) photos at once, so arrow keys and the keyboard shortcuts are the quickest way to work around this limitation.
Toolbar: Controls the display area view, sort order, and allows bulk modification of import state.  Thumbnail size is also configured here but is not depicted as it was not visible on my netbook's small screen.
Import settings: Fine grained import settings are managed to the right hand side of the Expanded dialog.  These are controlled through four panels, only two of which are available in the Add import type:

File Handling: Sets the preview size, whether duplicates will be imported, and whether a second (aka backup) copy of the files is created during import.  The second copy option copies the original files directly into the nominated directory using the naming scheme assigned in the "File Renaming" panel.  This option is disabled when using the Add import type.
File Renaming*: Sets whether files will be renamed and which (if any) template will be used to configure that process.  Renaming uses the same custom and EXIF field formatting approach available in Lightroom 2, with the addition of the "Shoot Name" field mentioned earlier.  If included in the file naming template you will be able to specify the values of the "Custom Text", "Shoot Name" and/or "Starting Number" fields here.
Apply During Import: Sets the Develop preset, Metadata preset and multiple Keywords that will be add to your files.
Destination*: Provides the same folder creation options available in the Compact dialog.  In addition you can browse the destination folder structure to locate and set the import destination.
* Not available for Add import type
All four import types (Add, Copy, Copy as DNG and Move, respectively) are depicted below, including at least one example of each of the Import settings panels.
I hope you've found this trip through the improved Import UI useful, and good luck with your Lightroom beta testing!