Finding the best approach for importing photos and video from your Android phone into Lightroom (Part 1)
I'm a photographer and my HTC Desire
is the one camera I always carry with me.  Unlike many of my fellow photogs I have forgone the iPhone and opted for an Android phone instead.  This two part post covers my experience choosing the best method for getting media from my phone into Lightroom
, and how this process differs from other phones.  The intent is to find an import workflow that is quick and reliable so I can spend less time managing and more time creating content I'm interested in.
My HTC Desire can capture photos, video and voice notes using the software that came pre-installed.  While Lightroom does have some limited ability to support audio files (as sidecars to photos) it is unable to manage standalone .amr voice note files, so for the remainder of this discussion we will be focussing only on photo and video media. 
Your options when importing from an Android phone
Your main options for making an Android phone's content available to a computer are Sharing, your handset's included synchronisation software, or accessing the content as an external Mass Storage Device either directly from Lightroom or via a third party import application.  
The synchronisation software provided varies from company to company and on my HTC phone the software is known as HTC Sync.  Samsung and other vendors provide their own equivalent but the rationale used in evaluating the options should still be relevant.  Most synchronisation software has similar capabilities so the discussion here should help you to make your own informed choice. 
The Android Market contains a number of applications providing ways to export images from your phone to third party services.  Adobe Photoshop Express is one example and can export images to Photoshop.com, Facebook, and TwitPic.  These applications can be useful in their own right but they do not assist the Lightroom import workflow so have not been considered here.
Video can be the Achilles heel of many of the import mechanisms mentioned below.  If you are considering recording video on your phone then choose your import mechanism wisely, and part two will discuss the preparation of video for import into Lightroom.
Sharing
Many Android applications (e.g. HTC Desire's Gallery application) provide a sharing option when viewing a photo or video.  Selecting this option lets you chose from a number of mechanisms for sharing items with other people or services.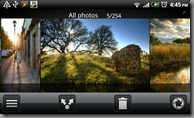 This is great for quickly sharing individual items but not terribly useful as the basis of a reliable import workflow for Lightroom.  Selection of content to share is manual increasing the chances you will miss files unintentionally.  It also requires a secondary service such as Dropbox or Bluetooth to transport the files to an location accessible by Lightroom's Import dialog. Other options such as email can be used but require more manual processing to detach the files and store them somewhere Lightroom can access.  Sharing is best used for quickly getting individual photos or videos off your phone and somewhere others can see it.
Synchronisation Software (e.g. HTC Sync)
The manufacturer's preferred synchronisation software is included with most Android phones.  It is typically used for synchronising Calendars and Contacts between a computer and phone.  For HTC devices this is the Windows only HTC Sync application, and the last major release (version 3) introduced the ability to synchronise photos and videos back to your computer.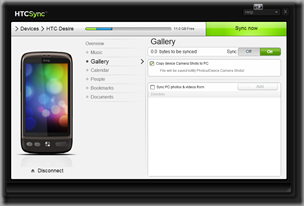 To take advantage of this feature enable the "Copy device Camera Shots to PC" option in the Gallery synchronisation options.  From then on HTC Sync will copy all photos and videos taken by the device into a pre-defined sub-directory in Documents or My Documents.  This is convenient because it prepares your images for import into Lightroom automatically every time you synchronise the phone.  Other brands offer their own syncing software so users of handsets should have an equivalent option available to them.
This was originally my preferred import option but HTC's synchronisation software has one issue that makes it unworkable for my video workflow.  During the file copy process it resets all of the date/time stamps for the files and replaces them with the time they were synchronised to the computer.  For images this is a minor nuisance because the EXIF metadata is unaltered and contains the relevant dates.  Unfortunately video files do not have an equivalent of EXIF metadata so once those date/time stamps are lost it becomes difficult to impossible to determine when those videos were taken.  This interferes with my preferred file naming scheme and is a "show stopper" issue for me.   Synchronisation software from other manufacturers might not have this flaw but please verify this yourself before entrusting you video import workflow to this option.
Mass Storage Device, accessed directly from Lightroom
One of the simplest options for importing your files into Lightroom is to connect your phone and computer via the supplied USB cable, switch the connection to the "Disk Drive" type, then start Lightroom's Import dialog and wait for it to detect the phone.  The Micro SD card should soon appear in the dialog just like any other external USB device and the photos and videos will be found in its DCIM folder.
As you are accessing the content directly from the memory card the dates and times recorded for the content will remain intact, so the video file renaming workflow should now operate correctly.  Unfortunately a new problem quickly becomes evident. Lightroom doesn't recognise the HTC Desire's video files so refuses to import them.
The HTC Desire includes a number of different modes for recording videos but all store the files with a .3GP file extension.  Lightroom does not currently recognise this as video and will not offer to import the file.  This impacts not only HTC phones but also those by other manufacturers (e.g. Motorola), and even other phone operating systems (e.g. the PalmOS use by my old PalmOne Treo 680), that choose to save their videos with this file extension.  If your phone uses .3GP or .3GPP as the extension for its video then Lightroom will ignore the files so cannot be used as the import mechanism.
Mass Storage Device, accessed via third party import application
The easiest way to work around the Lightroom Import dialog limitation is to use a third party application to copy the files to disk first.  I currently use this approach and the Image Ingester 3 product to import my files.
While this adds another step to the importing process it also grants some flexibility (e.g. more extensive file and folder renaming options) and ensures all of your images and video are imported onto your computer regardless of their filename extension.  Once on your system you have options to prepare your videos for import into Lightroom via its Import dialog.  More information will be provided about the preparation process in part two of this post.
Choosing the most appropriate import approach
After reviewing all the options presented the decision making process becomes fairly straightforward.  It all depends upon your interest in video and the capabilities of your phone.
If you don't currently, and never will, capture videos on your device then using your phone's native synchronisation software (e.g. HTC Sync) or Mass Storage Device mode (via Lightroom's Import dialog) to import is the simplest approach.  The limitations mentioned above don't impact an image only capture workflow, but if your workflow ever does expand to include video you will need to quickly change your import approach or risk losing valuable video metadata.
If you do capture video, take a quick sample with your phone and verify what file extension it produces.  If your phone is a Samsung Galaxy S
or any other phone that shoots AVI, MP4 or MOV videos (yes, even an iPhone) then use the Mass Storage Device mode (via Lightroom's Import dialog) to import.  It is the next simplest way to retrieve the media from your phone, retains your video date/time metadata, and Lightroom will recognise your video files so this option should support your video workflow.
If your phone produces .3GP or .3GPP video files you will need to use the Mass Storage Device mode (via third party import) option to maintain your video date/time metadata and ensure these video files ignored by Lightroom aren't lost. My tests with colleagues' Android phones indicate at least some HTC and Motorola users will need to take this approach.  Once the video files are safely store on your computer you can then prepare your video for import into Lightroom.
If you fall in the last category then please stay tuned for part two of this post, where I will describe the process of getting your .3GP video ready for processing by Lightroom.