Simple Metadata Entry Plugin for Lightroom 2 Updated (Version 20090310.002)
Update: A newer version of this plugin is now available. 
Please visit the Metadata Panels plugin page to download the latest version, and find the latest documentation for the plugin.
My Metadata Tagset plugin for Lightroom 2 has been updated.  The new version contains additional tagsets to help document the metadata fields available, including a number of those available in popular third party plugins.
The plugin now includes six additional tagsets for use in the Library module:
| | |
| --- | --- |
| Default (With Location) | Extends the standard 'Default' tagset with additional IPTC location fields |
| Location (with Jeffrey's GPS Metadata) [new] | Extends the standard 'Location" tagset with Jeffrey Friedl's plugin fields |
| LR: All | A copy of the standard 'All' tagset, to demonstrate  available fields. |
| LR: SDK [new] | Example of all metadata fields currently documented by the LR 2.0 SDK |
| Miscellaneous Plugin [new] | List of known metadata fields implemented by third party plugin developers |
| Undocumented [new] | Lists metadata fields found to work within LR2, but aren't documented as part of the SDK |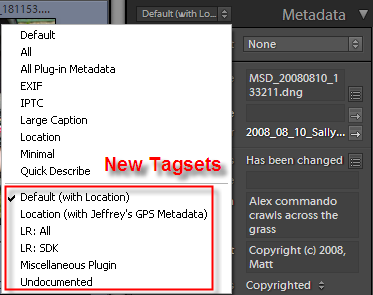 For those interested in writing their own tagsets, the 'LR: All', 'Miscellaneous Plugin' and 'Undocumented' tagsets are the most useful for documentation purposes.  Even if you shy away from using undocumented features it is worth reading the last section of the 'Undocumented' tagset because it demonstrates some of the ways to control tagset field formatting.  Please note 'LR: SDK' is not particularly useful at the moment, other than to demonstrate SDK documentation issues which I'm currently discussing with the Adobe developers.
With this release I now have all of the main features I need for my own purposes, and have provided sample code for everything I've found out about tagset metadata fields and formatting techniques.  Please leave a comment if you have suggestions for other features that should be added.
Installation
Download the plugin: Latest Metadata Tagsets zip
Copy the file where you want the plugin to permanently reside, then unzip the file.  This should create a sub-directory called metadata-tagsets.lrplugin.
Open Lightroom 2, then select the File\Plugin Manager menu option.
Press the Add button, select the metadata-tagsets.lrplugin directory created in step 2, then press OK.
The plugin is now installed and enabled.  Press Done.
Usage
When you open the Library module and display the right panel, a Metadata section is shown towards the bottom of the panel.  To use the new features:
Select the drop down list showing available tagsets (depicted above).
Choose one of the new tagsets at the bottom of the list.  For example, the Default (with Location) tagset.
I hope you find this plugin useful and feel free to share your experiences or suggestions in the comments section below.