Quick and easy way to back up Lightroom
Backups are important. Its frustrating to lose important data, and even more so to realise you could have prevented it with a little effort creating and maintaining a backup regime. Unfortunately this is a lesson most people won't learn until its too late and they are staring at a non-booting computer wondering what to do next.
Those who do backup their systems might not be capturing everything they want to restore in the event of a failure.  Most Lightroom users who do backup would backup their photo files but not all will remember to backup their Lightroom catalogs, which contain all of the develop adjustments they have spent hours making while turning snapshots into masterpieces. Fewer still will remember to backup those templates and presets they have spent time collecting and creating, and the other program settings they have tweaked to their liking and help them efficiently execute their digital workflow.
The recent major update of my TPG LR Backup plugin (formerly Config Backup) can help make the backup of your catalog and Adobe Photoshop Lightroom configuration files painless, so you can work safe in the knowledge that your data is being safeguarded in case disaster strikes.
How I backup Lightroom
To backup my photos and Lightroom I use the following approach.  Your needs and environment may be a little different from mine so please treat this as a guide only and adjust the processes to suit your individual needs.
Pre-requisites
Before backing up Lightroom I use SyncBackSE to copy all image files to a separate system.  I'm not going to detail this aspect of my configuration because you can easily fill a book on this topic (and Peter Krogh already has – the highly recommended The DAM Book
).  If you want to learn more about this I'd suggest starting with the Backup section of the dpBestflow.org site Peter contributed to. It not only explains the topic clearly (including videos) but also includes a number of example Backup System Configurations  to get you started.
Lightroom 2 and above includes a catalog backup feature.  I switch this on using the Edit –> Catalog Settings menu item and set it to backup my catalog weekly.  This ensures every time I start up (Lightroom 2) or shutdown (Lightroom 3) Lightroom checks whether it should create a new backup of the current catalog.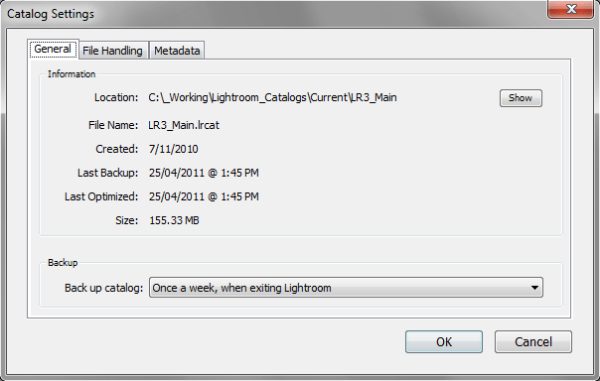 Plugin Configuration
Once I've enabled Lightroom catalog backups I then use features from my TPG LR Backup plugin to build upon this base level of protection. Installation instructions for the plugin are linked from the plugin's home page so I won't repeat them here. Please note the remainder of this post assumes you have registered the plugin to enable the automatic backup functionality.

Open the File –> Plug-In Extras –> Configure Automatic Backups menu item to show the following dialog: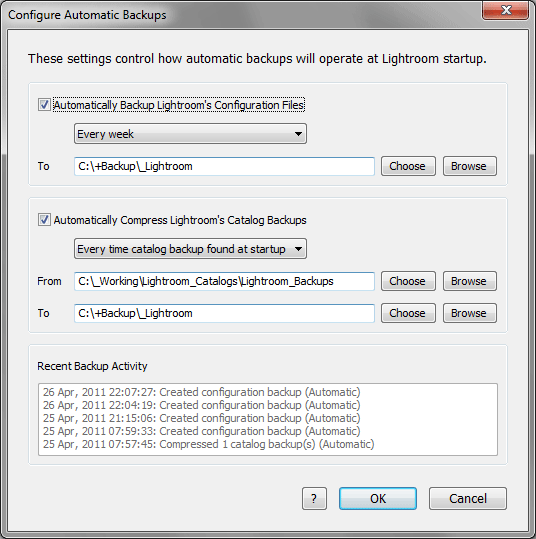 The From folder needs to match the folder where you configured Lightroom to write its catalog backups.  The To folders indicate where you want the configuration and compressed catalog backups to be written. These can point to different locations but I prefer to write both types of backups to a single Lightroom backup folder.
TIP: If you use more than one Lightroom catalog consider using the Edit –> Catalog Settings menu item to configure all of your catalogs to write their backups to the same folder. This will allow the plugin to compress all of your catalog backups regardless of which catalog you have open when you start Lightroom.
I set the configuration to be backed up once per week, and the catalog backups (created by Lightroom's inbuilt backup feature) to be compressed whenever they are found. The latter is particularly important because catalog backup files can be quite large and can quickly overrun your disk space. Compressing the backup files typically results in an ~90% size reduction so you can afford to keep more backups than you would otherwise.
It is recommended that your configuration and compressed catalog backups be stored on a separate hard drive from your Lightroom catalog and configuration files. Doing so will help increase your chances of recovering from a disaster. If your hard drive fails, backups will do you no good if both they and your Lightroom catalogs are stored on the failed drive.
Once you have configured your automatic backups press OK to save the settings, and it is best to restart Lightroom as soon as possible to test that everything works as expected. If this is the first time you have enabled automatic backups they will also run at next startup (regardless of the selected backup timing) to confirm you have configured your backups correctly.
Plugin Operation
If you are a Lightroom 3 user and have just setup catalog backups then you should see the following dialog when you exit Lightroom.  Make sure the backup folder matches the folder configured for your automatic backups then select the Backup button.  Lightroom will then take a few moments to copy your catalog and add it to the selected folder.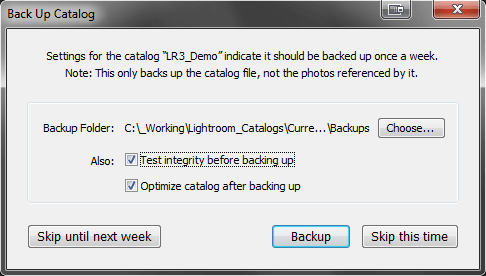 If you've used the settings suggested in the previous section then next time Lightroom starts you should see the following appear at the top of your Lightroom workspace. You may need to open the top panel of the Library module to see it.  This progress bar lets you know that TPG LR Backup plugin is executing your backups in the background while you continue working on your images.  Once this step has completed you will have a new zip file in your backup folder for each type of backup that was scheduled to run.

If you ever want to know when your last backup occurred just open up either of the plugin's menu items and you will be able to see the most recent backup events at the bottom of the dialog.
Feedback
I hope this post has given you some ideas on how to setup your own Lightroom backups. Please let me know via the comments if there is anything other part of my backup regime you would like me to expand upon.