Review: Organizing Your Photos with Lightroom 5 Multimedia eBook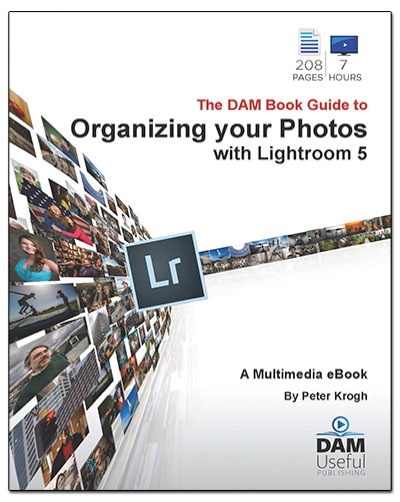 In late 2013 Peter Krogh published a new multimedia eBook called "The DAM Book Guide to Organizing Your Photos with Lightroom 5" (herein "Organizing Your Photos" or OYP). Published by his own "DAM Useful Publishing" company it is 208 pages long but more notably contains 7 hours of supporting video content. Peter Krogh is well known for his work in the field of Digital Asset Management and has published multiple books and eBooks on the topic as well as contributing to websites such as dpBestflow.org. He is also a professional photographer and an experienced Lightroom user so has had plenty of time to road test the topic being discussed today.
I was lucky enough to receive a review copy of the eBook and it couldn't have come at a better time.  My brand new MacBook Pro was about to arrive and as I was migrating from a Windows system I needed to re-evaluate my digital photography workflow anyway. I'd already read (and re-read) Peter's "The DAM Book" in the past so trusted his advice and was confident it would help me streamline my Lightroom workflow on the new system. I wasn't disappointed.
Peter has kindly provided an affiliate code for the site. All readers can enjoy a 10% discount on any "DAM Useful Publishing" titles by entering this code during checkout:
aff-pg-10-nx
What do you get?
The eBook itself is purchased and downloaded from Peter's website.  As you might have guessed an eBook including 7 hours of video is a pretty hefty download weighing in at about 3.6 Gb.  To help manage the size Peter had split the book into two halves with chapters 1 to 4 in the first book and the remaining 6 chapters in a second book.  This split the content into 2 packages of no more than 2 Gb each but you still need to make sure you have a good internet connection and plenty of time available when you want to download it. Since I downloaded my copy of the eBook DAM Useful Publishing has moved to a new shopping cart system and now allows the full book to be downloaded in a single file. I'm unsure if the two part download option is still available.
Peter has obviously put a lot of effort into this project. The eBook layout is professional and the writing style is clear and easy to follow. Plenty of images are used throughout to brighten up the book but the videos are where this book really shines. Multiple videos are included in each chapter, ranging between 1 and 10 minutes each, and they are launched directly from the PDF by clicking on the video. They are well produced with Peter clearly describing and demonstrating in Lightroom the specific topic at hand.  
I found this mixed media approach really helped explain the topics better than either a book or video could alone. The book gave you searchable notes that you could easily refer back to later if you wanted a quick refresher on a topic. The video could go into greater detail about the particular feature or technique and help bring the concept to life. Perhaps more importantly this allows the eBook to better support the individual learning styles of readers. Whether you are a visual or auditory learner you can find a way to absorb the material that suits you, and the reinforcement of concepts across the book and video formats ensures the information should stay with you for much longer.
Peter also includes links to some useful resources on his website to help readers apply the suggestions in the book. In particular a catalog containing recommended Smart Collections to add to your catalog, and Filter Presets to help you quickly locate your files.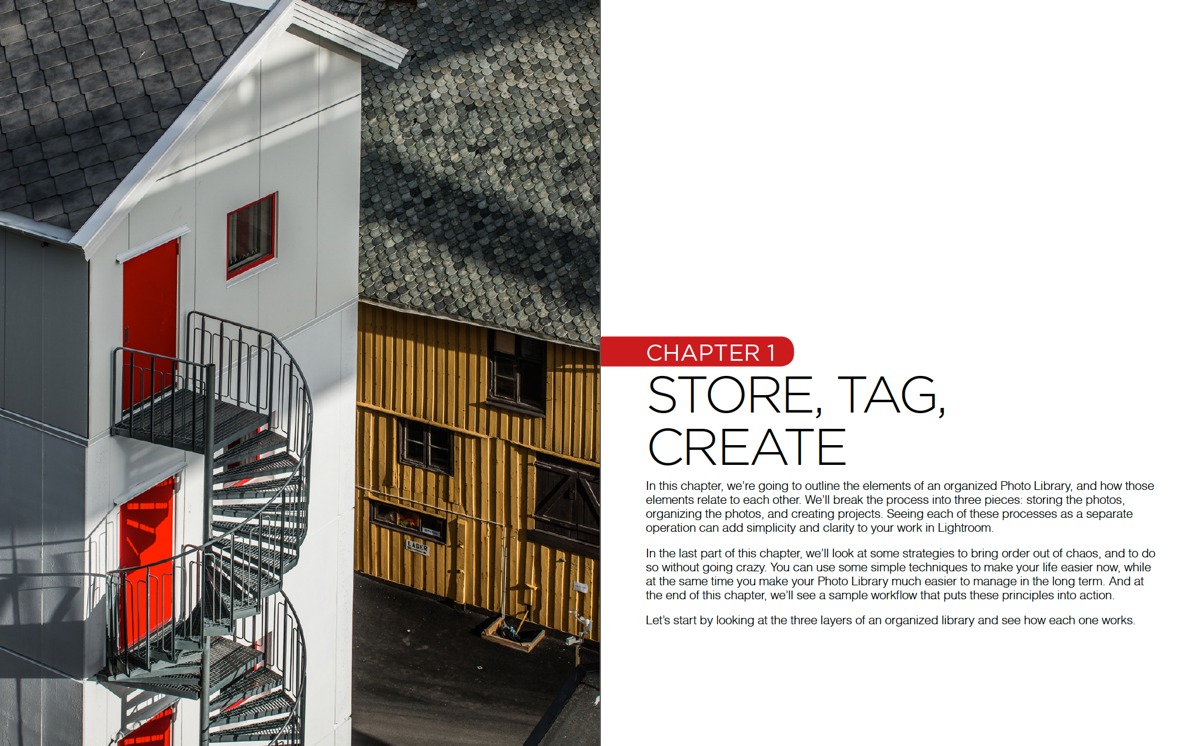 What is it about?
As the title suggests, this eBook is about using Lightroom 5 to organise and work with your photos. It provides brief overviews of relevant Lightroom features but doesn't go into exhaustive detail on the whole product. Instead it refers the reader to Victoria Bampton's excellent "Lightroom 5 Quick Start Guide" and "Missing FAQ" books if the reader wants to know more about Lightroom generally. Similarly this is not a book about how to process your photos to make them look their best or output your creations from Lightroom. There are plenty of books and videos available on these topics but this is one of the few books available that focus purely on the organisational/workflow aspects of the product.
Peter breaks the organisation theme up into 3 layers – Storage (chapters 2 and 3), Filter (chapters 4 to 7) and Projects (chapters 8 to 10). Storage covers where and how the files are stored (including the catalog itself). Filter covers metadata applied to the images (either automatically and manually) and how to use this to find the images you were looking for. Projects covers how you organise the projects and portfolios you are using to take your images and publish them for a specific purpose. Even though I consider myself reasonably familiar with Digital Asset Management and Lightroom, I found the content regarding all three themes useful and suggest you read them all even if you are only interested in one specific topic. As obvious as it may sound it really does help to read the introduction before diving into the remainder of the book. Here Peter gives an overview of his whole suggested workflow and it helps provide a solid foundation for understanding the detail in the chapters to follow.  
The book is layed out as follows:
Part 1
Introduction
Chapter 1 – Store, Tag, Create
Chapter 2 – The Lightroom Catalog
Chapter 3 – Photo Storage
Chapter 4 – Finding & Filtering with Tags
Part 2
Chapter 5 – Keywords
Chapter 6 – Metadata Presets
Chapter 7 – Location Tags
Chapter 8 – Collections and Projects
Chapter 9 – Using Publish Services
Chapter 10 – Managing Derivative Files
Afterword
After reading the whole book and watching all the videos my favourite sections were:
Chapter 3, where a simplified photo storage layout was described that made importing and backup of photos much easier.
Chapter 4, where a rating and culling scheme is described (video 4-6) and demonstrated (videos 4-7 and 4-9) to help manage both personal and client work within the same catalog. This is an area I've always found challenging and had never been satisfied with my workflow.
Chapter 5, which describes an approach for organically developing a keyword hierarchy over time rather than trying to develop a rigid hierarchy up front. It also covers how to refactor your current keyword hierarchy to match the suggestions (the challenge I was facing) or quickly start keywording an existing catalog if you haven't used keywords before.
Chapter 8, which describes a collection set centric way to manage projects and portfolios. This felt a little unnatural to me initially but its growing on me and it is proving useful.
Chapter 10, which describes a simple approach to managing derivative files (i.e. files that were produced from your photos). While the suggestions might seem pretty obvious to many readers,  those who have read "The DAM Book" will likely find the relaxed approach easier to manage.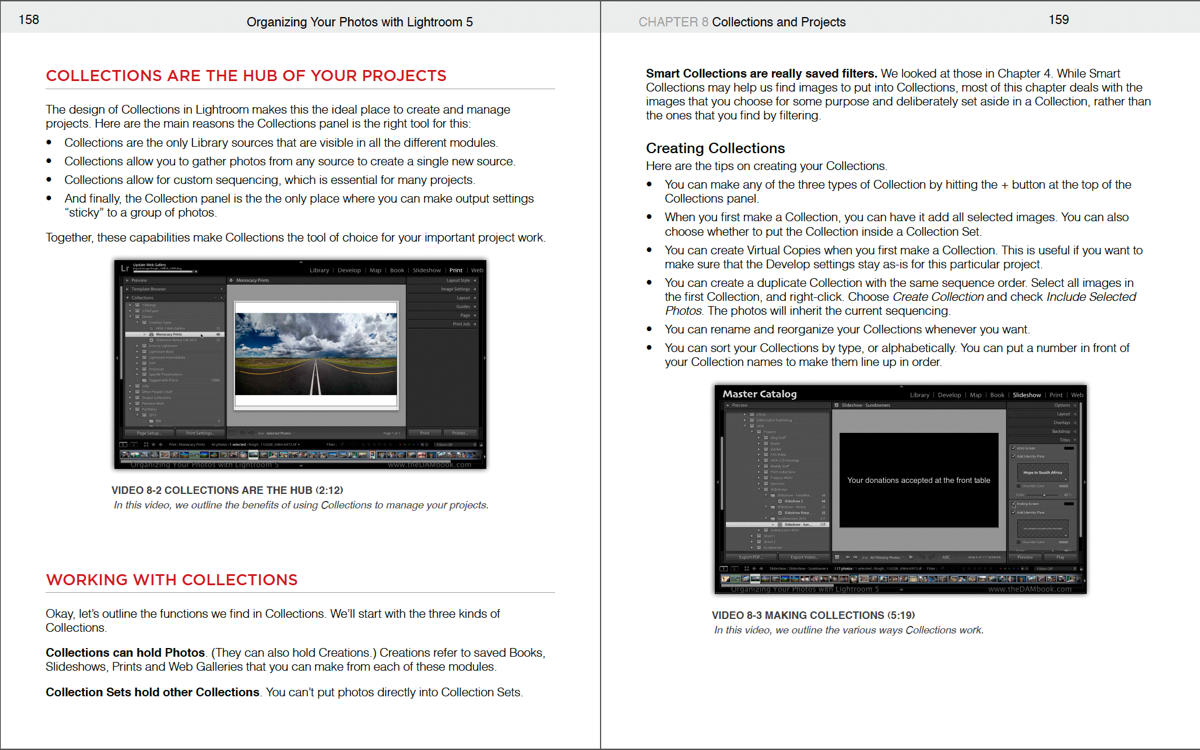 Conclusions
As I mentioned earlier I have read Peter's product agnostic earlier work ("The DAM Book") and had based my own workflow on its suggestions. So I had expected my workflow would be pretty close to what was recommended here. Not true. There were a number of areas where we had different interpretations on the best way to apply Lightroom's features to manage a DAM workflow. There were also some areas where Peter had adjusted his recommendations (and this was clearly identified) based upon his experiences managing large photo collections. I have to say his overall workflow was much more powerful and simpler to manage than mine so I gladly adopted the new recommendations.
I enjoyed reading and viewing Peter Krogh's "Organising Your Photos" eBook and can thoroughly recommend it to Lightroom 5 users of any level, regardless of whether you have read his previous books or not. The content is clear and concise, approachable even for those without much Lightroom experience, and describes a well reasoned workflow that is useful now and will grow with you into the future. I've personally adopted the recommendations and am finding it an easy way to manage my daily importing and processing of photos and videos from all of my cameras.