Review: Shoot +Share eBook
The announcement of "Shoot + Share: Getting Your Photographs Out Into the World" instantly grabbed my attention. The topic was timely as I've been grappling with how I share my photos with family and friends and it offered to help me work out the right sharing plan for me. That the latest Craft & Vision release came from Stuart Sipahigil, who contributed one of my favourite articles in the Craft & Vision eBook, was just the icing on the cake.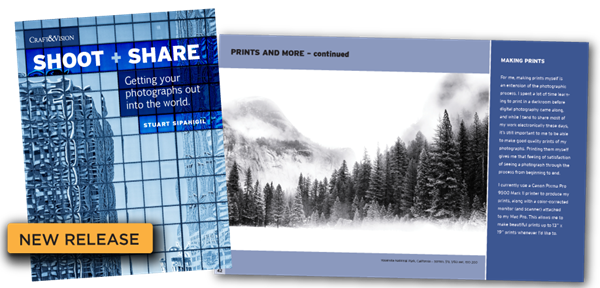 Stuart's 57 page eBook aims to help you determine the right photo sharing plan for you. It discusses the reasons why you need a sharing plan, and guides you through the major dimensions of your plan:
Why you want to share photos;
Who you want to share them with;
How and where you should share them; and
What photos you wish to share.
It includes exercises to help you work through these issues and develop the answers that best suit your personal needs. Stuart explains his personal sharing plan and uses his decision making process to illustrate the topics being discussed. By the time you finish the eBook you should have a high level sharing plan ready and you will be in a position to spend time working through the details of the plan, such as reviewing where you want to share photos.
This is not a recipe or workflow book. It doesn't attempt to give you the correct answer that everyone should try to mimic. This is a book that teaches you how to think about your photo sharing needs. While this isn't necessarily what I expected when I first open the book, I think its what I needed. I'm an analytical person (read: geek) who would have loved to get down into the nuts and bolts of which sharing site or social network is best and pour over the stats and feature sets. But as Stuart said the features sets and players can change rapidly in this space so any comparisons of products will date quickly. Instead he looked at the main classes of online sharing sites available and looked at the reasons you might want to use each. This should allow the eBook to age well as new classes of photo sharing technology don't come along that often.
It also reminded me that a sharing plan is not just for online sharing. Prints, photo books and public display are great ways to share your work and for certain audiences (e.g. my grandmother) these might be the only viable way to share with some segments of our audience. Stuart goes even further discussing ideas for sharing not just your work, but also your passion for photography through classes, photo walks and teaching. These are items I wouldn't even have considered as part of my plan without his advice.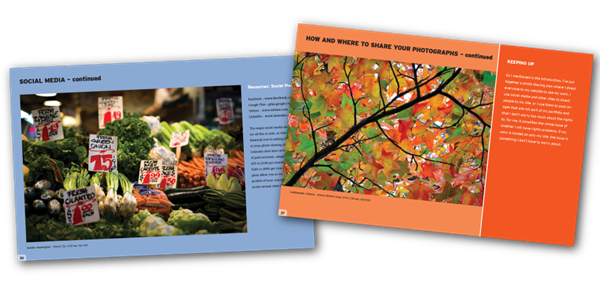 The concept of a sharing plan isn't new. In the corporate world I normally see this referred to as a Communications Management Plan, with some Stakeholder Analysis on the side. But Stuart has captured the essence of this concept, adapted it to a photographer's needs, and presented it in an easily digestible and beautifully laid out manner that shows he understands his audience. And I'm must fit squarely within that audience given my favourite quote from the book:
Remember, identifying your audience is important even if you aren't planning on making a living through photography. If you don't take the time to figure out who they are the only audience you'll reach is yourself.
(Guilty as charged.)
There were some unexpected points made in this eBook, namely:
The importance of editing your work ("what" you are sharing) so only the strongest work is presented to your target audience. Stuart also suggests some ways to get assistance if you are having trouble judging your own work.
Reminder for all users to view the Terms of Service (ToS) before publishing photos to a service. ToS can vary wildly from site to site and if you are not careful you might end up signing away your intellectual property without even realising it.
Understanding your audience doesn't necessarily mean you will be republishing your work in multiple locations. Stuart found that he had been over segregating his work and was finding it difficult to publish to his many online services. Now he publishes centrally and links back to that site from the other locations.
While I'd personally have liked to see some more geeky talk about sharing photos I think Stuart probably made right call leaving that detail out. People like me would have been distracted and potentially would have missed the main lessons of the book!
This is another quality Craft & Vision title that I'm happy to recommend. Stuart has done a great job capturing the essentials on how to create and maintain a photography sharing plan and I'm currently following his advice to create my own plan. Thanks Stuart for sharing your experience with us and I'm looking forward to reading more of your work in the future!
If you are interested in picking up a copy of "Shoot + Share: Getting Your Photographs Out Into the World", do so before 11:59pm PST April 28, 2012 and the promotional code SHARE4 will get you a 20% discount at the checkout. Or if you want to pickup 5 or more PDF eBooks from the Craft & Vision collection use the code SHARE20 to get 20% off the lot.